HEADLINE NEWS August 17, 217
WCSD loses one of its Board member.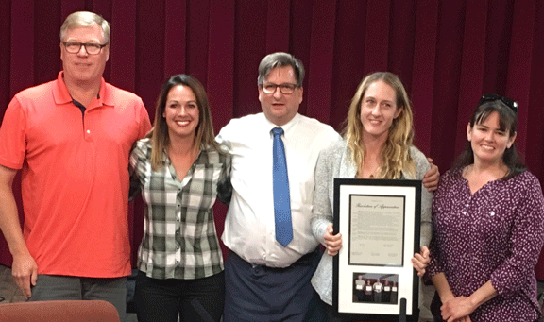 Wrightwood CSD honors Stephanie Carroll who is leaving the Board. Board members include (from left) Leo Hordyk, Natalie Lopiccolo, Wes Zuber , Stephanie Carroll, and Michelle Schneider. Photo by Debra Hordyk
By Vicky Rinek

Wrightwood Community Services District (WCSD) held a public meeting at the Community Building on Tuesday, August 15, 2017 to deal with six issues: Agreements with the San Bernardino County and funds due to the WCSD, agreement with CR&R, contract with the SBCo on staffing, assigning a Treasurer and check signing authority, and the resignation of a Board member.
During public comments Chuck Franklin, Wrightwood Property Owners Association (WPOA), spoke on the subject of Caltrans street widening project asking the WCSD to join the WPOA to petition Caltrans to add a bike and walkway to the construction of the widening of Hwy 2 and Sheep Creek Bridge improvements. Stephanie Carol said "WCSD has no power over the roads," Franklin continued, "WCSD could join them in a letter campaign to Caltrans." John Lenau added, "WPOA talked about letter writing, letting them know we are not happy with them (Caltrans). Caltrans initiated the bridge-widening plan in 2005 but they did not bring it to the community until three months ago. Lenau added, "Tom Pinard contacted the state senators twice to put in the bike and walkway path. Caltrans told Pinard it was an issue on funding and if they (Caltrans) don't put it in this coming year, then they have to wait until they could get the funds and delay the project further." John asked the WCSD to join them in the letter writing campaign to Caltrans." Lenau concluded, "I know it's not a county thing or a WCSD thing but it's a Wrightwood Village thing and we'll need it."
Franklin commented, "With the construction of the water pipes and pretty good rain we had, the Village roads were covered with dirt, and there are times when there is a cloud of dust around this place," said Franklin, "Caltrans said they don't have a street sweeper but they are going to bring in 15 people to use street blower," The audience laughed. Lenau said, "Caltrans has cleaned out the culverts and they will be back on Friday."
WCSD addressed the resignation of Board member Stephanie Carroll. She will not be able to complete her term, as she is leaving Wrightwood with her family. With regrets Stephanie said her final day would be at the ending of this meeting. The Board regretfully accepted her resignation and presented her with a plaque stating her accomplishments. Stephanie had a long list of accomplishments that have made the community of Wrightwood a better place to live. Her advocacy for residents of Wrightwood promoted a healthy lifestyle. She along with Michelle Schneider initiated the Tri-Community Co-op, providing fresh regionally grown produce to residents. She was instrumental in the formation of the Wrightwood Farmers' Market and managed it from 2010 to 2013. She inspired others in the creation of the Wrightwood Community Garden which now has 44 plots. Stephanie also helped to start the Walking School Bus to encourage more children to walk to the elementary school safely. She was recognized for her involvement with the Wrightwood Municipal Advisory Council (MAC), her exceptional work on the establishing the framework for the WCSD and serving as Vice President during this start up period. A representative from the San Bernardino County Supervisor's office, Regina Weatherspoon-Bell, presented Stephanie with a plaque recognizing her work with Wrightwood. Stephanie will be moving to Truckee were she will no doubt bring her talents to her new home. This vacancy will require the Board to select another person to fill this position. They will have 90 days to make their choice.
Other topics included the agreement with San Bernardino County on the property tax collection and collection the monies due to the WCSD. This is a continuing effort by the Board and the General Manager; no action was taken at this meeting. The Board indicated that this issue is in process and it will be resolved soon. The agreement drafted by attorney Steve Kennedy will be finalized by the next special meeting on Tuesday, August 22, 2017.
The next issue was the contract between the WCSD and CRR on the solid waste. Again the Board said they were not ready to finalize on the agreement. A few details had to be worked on and the Agreement would be ready at the next Tuesday's meeting. Brent Spears spoke on the issue and said that CRR would continue to collect trash without an agreement until the WCSD finalized the terms.
The Board continued the agenda with the issue on the agreement with the SBCo on the staff, i.e. Shannon, and all were in favor of maintaining the staff for up to 18 hours a week at $16 an hour. Al Morrissette said she is now working an average of 14 hours/week. The board then voted to add the duties as Treasurer to the General Manager, Morrissette. And give him authority to sign checks along with one other Board member. The final agreement on signing checks came down to requiring two signatures on each check, one being the Treasurer and a Board member or two Board members.
The General Manager, Morrissette, reported that the needed repairs to plumbing and electrical to the Community Building and the restrooms have been completed. The plumber has agreed to hold back the bill until January. The GM also reported that he has located a licensed gardener to do the landscape maintenance for $200 a month. The Board agreed this was a very good deal and commended Al on his work. Al continued by emphasizing the need to look for ways he can cut expenses to the WCSD.
The meeting was adjourned after setting the next meeting date for Tuesday, August 22, 2017 at 7:00 p.m., at the Community Building.


Apple Farm Musical Variations
By Michael Palecki

Last Thursday evening, Music in the Pines concluded the 2017 summer concert series at The Apple Farm with two bands that were vastly different in nature yet similarly energetic in delivery. In total, it was the meeting of squeezebox and accordion as Dan Campbell led Yo Mama's Revival through Cajun, Zydeco and New Orleans music followed by Streetlight Cadence featuring accordion, violin and cello.
Opening the concert, Yo Mama's musicians included Dan Campbell playing squeezebox and singing French vocals, Sean Vivirito singing French vocals, Terry "Big T" DeRouen on lead electric guitar, Gary Sizemore on acoustic guitar, Walter Foley on bass guitar, Mark Rodenborn playing harmonica and scrub board vest, with Jeff Mitchell on drums.
Starting off with "Bayou Pon"- the Hank Williams song about the happiest place on Saturday night- Campbell and Vivirito sang the lyrics in French. After that, Gary Sizemore sang lead vocals for the Jimmie Rodgers song "Women Make A Fool Out Of Me" featuring Rodenborn on harmonica and Big T on lead guitar. Followed by a Cajun funeral tune, a Louisiana wedding song and the Zydeco song, "Country Boy," by Curley Taylor, the prominent bass was combined with harmonica and squeezebox. In the revival parlance, all three songs shared equal enthusiasm.
Interspersed among those Delta selections, Gary Sizemore sang two of his original songs with "Cadillac Car," featuring a harmonica introduction to Big T's shrill guitar solo. Later on, the high-octane song, "Down To The Park" had the entire band gyrating.
Continuing with "La Danse De Mardi Gras," Campbell remarked, "This is a song that everyone sings at Mardi Gras as he ratcheted up the intensity singing. After that song Campbell, Mitchell and Rodenborn exited the stage with snare drums during "Do Whatcha Wanna," by the Rebirth Brass Band, to meet the "Second Line" horn section of John Burcher on Saxophone, Jerry Jones playing trumpet, Jim Scimonetti on clarinet and Craig Kupka playing trombone on the dance floor as the musician paraded among dancers for a raucous grand finale.
A tough act to follow, nonetheless Streetlight Cadence hit the stage with their own brand of vitality as Jonathon Franklin on lead vocals and violin, Brian Webb on electric cello and Jesse Shiroma playing accordion and Cajon drum box percussion with his foot, performed many original songs and a few covers.
Classically trained, the college mates became an Indie folk group sensation in Hawaii, while performing on street corners for grocery money. At that time, Webb played a traditional acoustic cello and the band included an acoustic guitarist.
Starting off with a song written by Shiroma entitled "I Like You" the musicians breezed through a number of original songs about happy and sometimes baffling romances, engaging the audience along the way with friendly banter in between selections. With clear strong vocals from Franklin and Webb, both musicians alternated between strumming the violin and cello and using the bow for delightful listening.
At one point Franklin commented, "We've never had an audience dancing to our music. Thank you Wrightwood!" Following that, slow dancers were accommodated with a notable cover for "Stand By Me," and heads were bopping to the beat of "Wagon Wheel" with the "Rock me mamma" chorus.
Community Says Farewell to Joe Sosa
Joseph Michael Sosa, 73, died on Thursday, August 3, 2017, at his home in Wrightwood, CA, with his two children by his side. Joe was born on May 31, 1944, in Brooklyn, NY, to Jose Manuel Sosa and Lilia Sosa Santiago, who were immigrants from Cuba. He was the older of two sons. As a child, the family moved to Miami, FL. He graduated from Southwest Miami High School 1964. Joe served a brief stint in the U.S. Air Force.
Joe enjoyed skiing, photography, fishing, computers, cars, motorcycles, and music. He also enjoyed flying planes, and had a twin-instrument rating. He was a lifelong fan of the Dodgers, who he loved since attending Brooklyn Dodgers games with his father and brother at Ebbets Field as a boy.
Joe moved to California in 1970. He lived in San Francisco for eight years, and then settled in Los Angeles, where he lived for more than 30 years.
Joe enjoyed a successful career in advertising, working in Miami, San Francisco, and Los Angeles over a 40 plus-year career. He started his career working in the mailroom for a small ad agency in Miami. In the 1970s and 1980s, he worked for Chiat/Day as Vice President of Print Production, winning Advertising Production Manager of the Year for Southern California in 1981. He also worked for several other ad agencies and won many other awards for his work over his long, distinguished career. In his retirement, Joe owned and operated a PC repair business, ComputeRxLA.
Joe lived in Wrightwood for a few years in the early 1990s, and moved there permanently in 2009. He was active in the community, a member of Sunrise Church, a Director of the Chamber of Commerce, and a volunteer for Wrightwood CERT. He was very proud of being recognized as Wrightwoodian of the Year for 2014.
Joe was a dedicated member of Alcoholics Anonymous and enjoyed 24 years of sobriety at the time of his passing.
Joe is survived by his son, Daniel Sosa; his daughter, Leah Sosa; his brother, Al Sosa; his partner, Joyce Baker; and many other relatives and close friends.
The community gathered at the Wrightwood Community Building last Monday, August 14, 2017, for a celebration of life and memorial service.
Serving Wrightwood, Phelan, Pinon HIlls and West Cajon Valley
Since 1961
Website powered by Network Solutions®