Community Feature Stories
The Transition From Jensen's to Wrightwood Fine Foods
Barry S, Bricca
The article "Jensen's Market New Owner" (Mountaineer Progress June 15, 2023) was an excellent effort to educate the readership about the history of the Frazier Park grocery scene and the new owner of the Frazier Park market. Unfortunately, the article did not address the enormous differences in the history and demographics of the Frazier Park Community and the village of Wrightwood.
The Frazier Park article describes the community as a weekend community enjoyed by residents of the San Fernando Valley. In 1967, my grandparents purchased the bachelor "pad" of a respected local Wrightwood builder, Eddie Sheider. At that time, Wrightwood was occupied by a demographic that included one-third of weekenders, one-third retired, and one-third of middle-income working folks (chiefly firemen, tradesmen, and teachers.)
The article describes the market in Frazier Park as a center of local interaction. While that was certainly valid in Wrightwood from the 1970s until the early 1990s, everything changed with the Stater Brothers market in Phelan and the changing demographic. Whereas one would see shopping carts with children, by 2000, most Wrightwood parents worked and did major shopping "off the hill." Wrightwood is currently populated primarily by young families with weekenders and retired folks in the minority.
There was a lot of misinformation disseminated online concerning the transition from Jensen's to Wrightwood Fine Foods. The employees at Jensen's were informed several months in advance of the sale of the store. According to a reputable long-time employee, Jensen's provided employees with fair severance checks. Two highly-paid employees were not retained. However, they were well-compensated in severance.
It is very important to residents to have a high-quality market that employs locals in an ethical environment. My research indicates that we have a transition from Jensen's standards to new ownership dedicated to serving Wrightwood properly.
---
Wrightwood Historical Society reviews historical mudslides.
By Morgan Owen

Timed perfectly amidst one of the largest storms to hit California this year, Wrightwood Historical Society President Lauren Kozyra took to the museum's archives to teach about the three most notable mudslides in Wrightwood throughout the 20th century.
The first major mudflow of the 20th century took place in 1941. At that time, Wrightwood was a much smaller community, consisting of about 390 residences. In her talk, Kozyra presented a Mountaineer Progress article from 1970 where G.S. Corpe recounts his first-hand account of the 1941 mudslide.
"At first, no one realized what a potent deal Nature was about to hand us… On Thursday, May 8, 1941, no one was worried, and people thought it would be easily controlled. But each hour, the flow increased and soon was moving with irresistible force! It soon got to tearing out rocks as big as a house and trees 30 inches in diameter," wrote Corpe.
Corpe's account continues to recount the events of the mudflow lasting until May 17, when the flow began to ease. In his account, Corpe states there was a snowpack of 60 feet on Blue Ridge.
The culprit of these mudflows is the Heath Canyon Fan, or what Wrightwoodians will know better as Heath Creek. At the top of the Heath Canyon Fan lie deposits from the Wright Mountain Landslide, one of Wrightwood's most prominent visual landmarks. Geologists have dated the slide to about 500 years old based on the Jeffrey Pines in the area.
When storms roll through Wright Mountain, or when there is a series of particularly wet winters, remnants from the Wright Mountain Landslide flow down Heath Creek into town, creating a mudflow of cement-like sediment.
The second major mudflow Kozyra found records of was the 1965 mudflow. County records show that 450,000 cubic yards of debris flowed through Wrightwood in 1965. While the 1941 mudflow saw 1.2 million cubic yards of debris, the 1965 mudflow was far more destructive, as Wrightwood had grown in size.
The mudflow destroyed eight homes, and Lone Pine Canyon Road was split in two, resulting in the two-segmented Lone Pine Canyon Road as we know it today. There were no casualties, as the community had already been evacuated by the time the homes were destroyed.
The San Bernardino Sun wrote "one street no longer exists, and most of another is a collection of mud and rocks. The mud flowed like lava… Mud at least eight feet deep obliterated the landscape." The account continues to describe furniture strewn throughout the streets and houses buried to the ceiling in mud. Kozyra then surprised viewers with footage of the 1965 mudflow.
In 1966, because of the 1965 mudflow, the county decided to rechannel Heath Creek to make the town safer in the event of future mudflows. Today, you can see the fruits of that effort in the Heath Creek Wash that cuts through the East side of town.
The next mudflow took place in 1978, but because of the work done to deepen and widen Heath Creek, much of the destruction seen in the previous two mudflows was avoided. Although some of the flow exceeded the area of Heath Creek, the fire department was able to successfully divert the flow away from two homes.
If you would like to see the evidence of these historical mudflows, you can hike up Long Pine Canyon Road to see where the 1965 mudflow destroyed the road. You can also hike up to the top of Heath Creek Wash to see the levee installed to protect the town.
Mudflows are a regular phenomenon common to Wrightwood, with a small flow occurring at least once a year. However, thanks to the wash, Wrightwoodians feel few of the effects of this natural occurrence.


Wrightwood COVID Reflections: Personal Histories of the Pandemic.
Speaking and Book Signing Event, October 1
By Vicky Rinek

The Wrightwood Friends of the Library invite the community to an upcoming public forum, subject: Wrightwood COVID Reflections: Personal Histories of the Pandemic.
Contributing writers to the book will read their essays, answer questions, and sign the book.
The forum will be held in Wrightwood on October 1, 2022, at 2:30 p.m. at the Community Building. Admission is free to all people of all ages. Attendees will be encouraged to bring their books for the contributing authors to sign; if they do not yet have a book, they can buy one to have signed.
Over the past two years, everyone practiced social distancing and stayed home, and we all experienced isolation and loneliness to some degree. COVID dramatically changed our lives and relationships over the past years. Schools were closed, and in-home learning replaced the classroom. A band of public gatherings was mandatory. Local businesses found it challenging to keep their operation financially stable or close their doors because of the pandemic. Many were asked not to come to work, work at home, or lose their job. Sadly a few families in the community fell ill or died. Whether you've suffered in the past year or been lucky enough to escape the worst of it, we all heard stories from friends and loved ones. There were students locked down at university, essential workers forced to serve the public with inadequate PPE, and a son who couldn't visit his dying father in a care home …. Recovery was slow due to soaring inflation and ongoing supply chain disruptions caused by the pandemic.
These are the stories of COVID in Wrightwood. This book is filled with essays by people living in Wrightwood and how they continued to push on in face of COVID-19.
The Wrightwood Friends of the Library has documented the drama of this epidemic in the Wrightwood COVID Reflections: Personal Histories of the Pandemic. Members of the Wrightwood Community expressed their experiences during this time period.
You are encouraged to join the Wrightwood Friends of the Library for this significant event.
Questions please email: wrightwoodlibrary friends@gmail.com.
Phelan Elementary School Peace Patrol
February 27, 2020
With buckets and trash pickers students, from Phelan Elementary School, participate in the Peace Patrol, "Kindness Clean-up, Act of Kindness." Photo courtesy of Snowline School District
By Michael Palecki
For younger students at Phelan Elementary School, adjusting to educational curriculum and developing social skills sometimes presents difficulties. When conflicts arise and interfere with a positive interaction of classmates on the playground and cafeteria, members of the Peace Patrol intercede. These fourth and fifth graders have been trained on restorative circles, peer mediation, peaceful solutions, and being role models on the campus at all times.
While conflicts exist in everyone's lives, learning how to resolve differences early on makes for a stronger person. Peace Patrol members are not involved in physical disputes, but will attempt to resolve an issue before it gets to the physical level.
Under the supervision of School Counselor Judi Skillman, selected fourth- and fifth-grade students go through an application process and need to get approval from parents, teachers, and Skillman before being invited to go through two days of training. After the training, they sign up for shifts to help younger students out on the playground and cafeteria. Peace Patrol students give up their recess and are responsible for all the classwork they miss during their shift.
Recently, to culminate Phelan Elementary School's participation in International Kindness Week, Peace Patrol members performed a "Kindness Clean-up Act of Kindness" in partnership with Scott Brown, President of High Desert Keepers. Brown provided students with trash pinchers, buckets, and trash bags which were donated by Mike Troeger of Mountain Hardware. With the help of a few parent volunteers as well, the task at hand was to focus on trash that blows in from the desert on the Stater Bros.' side of the school and builds up against the playground fence.
In less than one hour, students collected more than a dozen bags of trash. Collected items included dumped cans of paint, cardboard, and fast-food wrappers. According to Skillman, "One lucky student found a dollar bill." Resolving disputes before they escalate and cleaning up their neighborhood, Peace Patrol students donate their time for a better learning experience and better community.
Lion Donna Alvarez, Winner Christopher Williams, participants Natalie Opdahi and Amelia Owens. Photo by Vicky Rinek
Winner of the Lions Student Speaker Contest
By Vicky Rinek
Serrano High School Senior, Christopher Williams, successfully won the Timberline Lions Club, Club level, Student Speaker Contest on February 20, 2020. With Christopher two other contestants participated, Amelia Owens, 9th grade at Inspired Charter-Home School from Wrightwood, and Natalie Opdahi,10th grade at Sky Mountain Charter-Home School from Wrightwood.
The topic this year was, "Homelessness in California. What is the Solution?" For his win at this level, Christopher earned $100 and the two other students received $25 for participation.
The winning speech was selected based upon strong presentation, enthusiasm, emphasis, voice control, persuasiveness, and the adherence to the topic.
Christopher will advance to the Zone level on March 16 wherein he competes against other students from the High Desert and will have a chance of winning an additional $250 scholarship. Contestants can win various amounts of scholarships along the way to the final contest. The total competition in six levels could earn $21,500 in scholarships.
Timberline Lions Club member, Donna Alvarez, chaired the event. The Club thanks Donna for her hours in volunteering and organizing the evening's competition.
Judges for the Club competition were: Joseph Hisquiedo of Lee and Associates, Janine Brand of Wrightwood Chamber of Commerce, Diana Hill of Phelan Toastmasters Club, and Brenda Rombalski of Phelan Toastmasters Club. With support, the competition was verified by tellers and timekeepers, Austin Farrar and Michele Kraenkel. Other helpers included Vicky Rinek, Steve Rinek, Carl Smith, Novel Carter, Pam Wright, Sand Hanlon, and Nancy Smith. Guests enjoyed a dinner hosted by the Club after the competition.
Lions Clubs International is the world's largest service club organization with more than 1.35 million members in 210 countries and geographic areas around the world. Since 1918, Lions Clubs have aided the blind and visually impaired and made a strong commitment to community service and serving youth throughout the world.
The Timberline Lions Club was chartered in 1961. They hold their general meetings (dinner meeting) on the third Thursday of the month at the Wrightwood Community Building, 1275 Highway 2, Wrightwood, at 6:00 p.m. Public is invited to attend.
---
Snowline's Police Chief Mibeck receives award
By Donna Alvarez
July 20, 2019: Snowline Joint Unified School District's (SJUSD) Police Chief Bryce Mibeck received commendations from the San Bernardino County Superintendent of Schools (SBCSS) Ted Alejandre and SBCSS Safety Compliance Manager Daniel Marmolejo. At the school board meeting, Marmolejo commended Mibeck for the presentations on Snowline's violent intruder training and threat assessment protocols he gave to San Bernardino and Riverside County School police officers.
Robert Cachon began his tenure as the new Assistant Superintendent of Business, replacing Karen Winkler who recently retired. Cachon had been Director of Risk Management/Marketing & Public Relations. James Fields was introduced as the new director and will be replacing Chacon in that position.
Superintendent Dr. Ryan Holman gave an update on Snowline's Long-Term Debt Repayment Plan (LTDRP). The first item under "Revenue and Expenses" was the investigation of the funds needed for revenue upgrade and facilities for replacement the Snowline District's information sign at the administration building. An 8' 6" electronic marquee, at a price of $40,000, has been suggested for the replacement. Board members expressed concern regarding the costs for warranties and insurance policies against the possibility of damage caused by vandalism, etc. The board wants to continue to research other vendors and experts for the district sign replacement. The purpose of this proposal is to continue to maintain a highly visible and continuous connection, which would share the wonderful outcomes with the community at large regarding the activities, programs, and commendations of the Snowline JUSD.
Upgrades that have already taken place include the new flooring and wall upgrades in the Student Learning and Support Services/Board Room and the District Office.
Further discussions continued regarding the energy proposals for the district's solar panel contract. According to Superintendent Dr. Holman, the board is "investigating the feasibility of buying out the remaining years of the (solar panel) contract for a price that would be less than what (Snowline) owes for the duration of the contract. This could potentially allow Snowline to benefit through utility cost reduction." Having the correct plan for cost efficiency, the panels would bring in revenue for the district.
The board is continuing its research into dropping the "pay for ridership" for Snowline's Student Bus Transportation. In 2009-10 school year, when Snowline still provided free ridership on the buses, ridership totaled 4,388 (enrollment in the district was 8,360 students). This is compared to 2018-19 school year when the ridership declined to 1,172 (enrollment in the district was 7,570). Due to the decline in ridership, board members agreed they should consider dropping the fee program for 2020-21 school year. However, before this takes place, other issues need to be considered: the new district bell schedule necessary for the State of California's passage of a new law, supporting student health, regarding an 8:30 a.m. school start time for all grades; the number of bus routes necessary to handle all the students; and the gradual replacement of Snowline's aging bus fleet.
CSD Declines Acquiring Sheep Creek Water Company
By Michael Palecki
July 17, 2019: Directors of the Phelan Pinon Hills Community Services District (CSD) at the Regular Board Meeting of July 17 reviewed and discussed a proposed consolidation plan prepared by Sheep Creek Water Company (SCWC). As directed by the State Water Resources Control Board (SWRCB), in order to resolve Sheep Creek's water supply shortage, one option for their future was consolidation with the CSD.
At the Special CSD Engineering Committee Meeting of April 29, SCWC stipulated that shareholders be compensated at a fair market value for 8,000 shares, and that employees be transferred to the CSD. In response, the CSD requested an appraisal of assets and financial obligations. Since then however, the CSD and SCWC Consolidation Committees were unable to schedule subsequent meetings, and with an SWRCB deadline to submit information approaching, CSD General Manager Don Bartz felt a public meeting would be necessary to address issues on how to proceed. At last week's meeting, Vice President Charlie Johnson was absent, and Director Mark Roberts recused himself because he is an SCWC shareholder.
Based on correspondence from SCWC dated June 18, 2019, assets were valued at $23,720,000 while debt amounted to $600,000. CSD President Alex Brandon was hopeful that by the end of the meeting there would be sufficient input from the stakeholders for the board to respond to the SCWC proposal. However, the tone of the letter and supporting information seemed to suggest potential benefits for the CSD, "To acquire the assets of SCWC at fair market value in order to complete a consolidation." Furthermore, "Necessary improvements could either be completed through a consolidation grant up to $5 million from the State, or a reduction in the purchase price."
In public comments last Wednesday, SCWC shareholder Kathy Everheart voiced support of consolidation. In contrast, CSD customer and ratepayer Cheryl D. Rhoden commented, "The Board of Directors of the CSD is considering a proposal for consolidation with SCWC. The CSD is not buying SCWC. I'm open to consolidation if the CSD does not buy the assets of SCWC and rejects paying outstanding loans."
Continuing with Board Comments, Director Kathy Hoffman stated, "There is no purchase option." Following up, Director Deborah Philips commented, "I have read all the documentation. Nothing in it serves a purpose for the CSD." President Brandon then remarked, "The CSD is interested in being a good neighbor. Using the term 'Appraisal' at the Special Engineering Committee Meeting was never intended to be an offer to purchase SCWC. We will do whatever we can to move forward towards consolidation."
Concluding his comments, SCWC President Andy Zody reiterated, "Sheep Creek has assets. The 40-acre Wrightwood Canyon Well Field could be used for parkland or an equestrian site."
---
Ring of protection around Wrightwood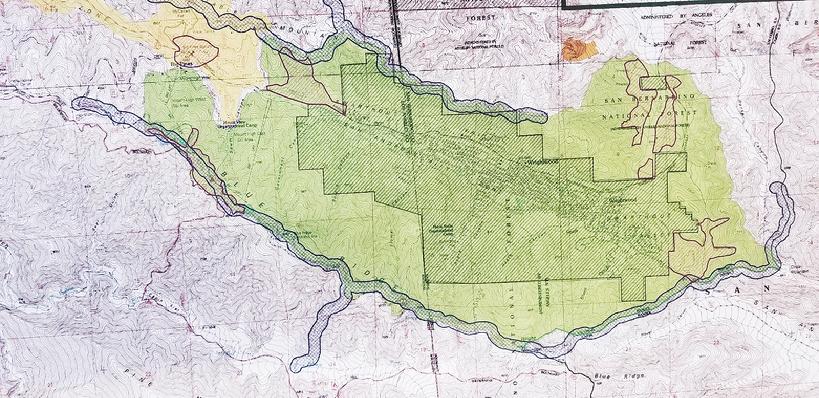 A Forest Service map shows priority areas (crosshatch on perimeter & Oak Springs Valley) identified for fire fuels abatement.
By Terri McCawley Hill
Wrightwood Fire Safe Council (WFSC) has been working with California Conservation Corps (CCC), Angeles National Forest (ANF), San Bernardino National Forest (and county Forest Health (SBNF), San Bernardino County Fire, Cal Fire, and SB County Fire Hazard Abatement (SBCFHA) on a plan to mitigate hazardous fire fuels around the community and within the community of Oak Springs Valley (OSV) often referred to as Desert Front Rd. area).
Last week, representatives from the above agencies met with WFSC Board members to map the most critical areas for brush clearance, triage those areas, and assign the appropriate crews for the work. The endgame, if all goes according to plan, is to create a ring of defensible space nearly surrounding Wrightwood.
Through grant funds and continued working relationships with key agencies, fire hazard abatement work has already been done in the Guffy Camp area. Hikers might notice the distinctive checkerboard pattern, interrupting a fire's fuel path, on either side of Blue Ridge Road. One priority project will begin in the next month or so, clearing brush 50 feet from Wright Mountain Road, on both sides.
Residents whose property boards the forest might be asked for permission to cross, in order to access areas of fuel mitigation on the east side of town, and along the flood control properties.
Representatives from the above agencies will be in uniform and will carry identification.
Roads in OSV require clearance of 10' along the sides. Residents are working on their areas of responsibility, and the CCC will back them up with hand crews and additional on State and Federal land. Last winter, the overgrowth along the roads and on the private parcels in OSV was brought to the attention of the WFSC by a concerned resident. He said his property meets County regulations for defensible space. Still, in the event of a wildfire, he would have to shelter in place, as the neighboring properties and roads would be tinder boxes, and impassable. This was a major concern, as even the firefighters said it would be nearly impossible to go in and fight a fire, noting that Desert Front Rd., the only road into and out of the small community, would likely be overtaken by flames.
WFSC members took the concerns to SB County Fire and Cal Fire, and to SB County Code Enforcement (Fire Hazard Abatement). In the past, OSV was not subject to yearly property inspections. It was overlooked largely because it is situated where the desert meets the mountain, and didn't fall into one category or the other until SBCFHA officially scheduled the area for the 2019 inspections.
Because the inspections and resulting warnings and citations were new and unexpected, residents of OSV have been given a grace period by the County. Andres Diaz, of SBCFHA reported, "Residents of the OSV area are being given until September (no date assigned, as yet) to clear their parcels and the area within 10 feet of the road in front of their properties." He added, "Many of these properties have never met defensible space standards, and will require a great deal of time and work." Andres said the FHA office wants to be a partner to residents, not just dispense warnings and citations.
Making these connections with agencies, on behalf of the community, is the purpose of the Fire Safe Council. Often mislabeled, "Fire Safety Council," the organization works not with fire safety, so much as toward a community safe from, and defendable against wildfire.
Mythical story of lost gold in Pinon Hills
from the archives of the Mountaineer Progress Newspaper
According to legend, the story of secret gold buried in the hills above Pinon Hills has been told for hundreds of years. The myth of the treasure continues and treasure hunters still search for signs of the hidden gold.
The story goes: Jesuit priests arrived in New Spain (Baja California) in the 16th century, planning to convert indigenous people into the Catholic Faith. The first mission was built in 1697. Between 1697 and 1746, the Jesuits founded 16 missions and many vistas. The missions were not rich by any stretch, in fact during the Jesuit period they were very poor. The Jesuit priests worked the fields and had actively evangelized the indigenous peoples. Their main activity involved educating elite criollo (American-born Spanish) men, many of whom themselves became Jesuits. Rumors were spread that the Jesuits were keeping riches acquired in California (gold, silver) and not sharing it with the king.
The story continues: Jesuits discovered gold in California and they created fine pieces for their altars. Priceless items, thought to make up the mythical lost gold, included bars, coins, plates, cups, and crosses. Their inventory of treasures were not only symbols of their worships but were used to paid their workers for construction of their missions.
In late June 1767, the Spanish King order a decree that all Jesuits be expelled from California. Soldiers removed the 678 Jesuits from their 16 missions and 32 vistas in Baja California. No Jesuit, no matter how old or ill, could be excepted from the king's decree. Many died on the trek along the cactus-studded trail to the Gulf Coast port of Veracruz, where ships awaited them to transport them to Italian exile.
Due to the isolation of the Spanish missions in Alta California the expulsion decree did not arrive until December 1767. The Jesuits received word from an explorer about what was happening in Baja California, so the Jesuits collected their gold and headed up to the high desert. They hid their gold and silver in a cave in the foothills (believed to be in the area now known as Pinon Hills) and created a landslide to hide the entrance.
They returned to their mission and waited for the Spanish solders to arrive. Spanish solders were ordered to confiscate their gold and bring it back to Spain. The 16 priests continued their work and tended their gardens. When Visitador General from Spain, Jose de Galvez, arrived he was shocked to see the poverty at the missions. Other than altar pieces and paintings that adorned the Jesuit churches, there was not much else that could be called 'treasure'. The mission was abandoned and the 16 Jesuit priests were taken prisoner and sent to Spanish exile and the knowledge of the buried treasure went with them.
Hope you enjoyed reading about the mythical story of the lost gold in Pinon Hills.
---
Mountaineering Mayor
by Carol Bishop
Robert Chacon is an ultimate Tri-Community resident. Having graduated from the Snowline school system, he worked for a number of years at Mountain High - rising to the level of VP of Operations. Two years ago, he returned to SJUSD, but this time as its risk manager. Currently he holds that position along with the added responsibilities of public relations and marketing. Together with his wife and two children, he lives in a part of the Tri-Community that the post office considers Wrightwood, the water company deems Pinon Hills, and Edison says is Phelan. He volunteers with LA County Search and Rescue and is the Honorary Mayor of Phelan - even though he missed the induction ceremony because he was climbing Mt. Aconcagua.
About a dozen years ago, Robert and a fellow ski patrol member at Mountain High met and began hiking, rock climbing, ice climbing, and back country skiing together. Trevor Samorajski - also a Tri-Community resident - and Robert realized they were a good team and confirmed it by climbing Mt. Whitney via the mountaineers' route. Three miles up the trail from Whitney Portal, a technical route breaks off. Ascending in spring, climbers must use ropes, crampons, ice axes, and other snow gear. With Mt. Whitney under their belts, they headed for Washington. Robert reports that there's a common progression in the climbing world, and once they'd done Whitney, they thought they might as well attempt Mt. Rainier.
That climb consisted of glacier travel. Challenging themselves by hiking unguided and unsupported, Robert and Trevor covered the glacier and its crevasses using special two-person rope systems. After a successful summiting, Robert says that Denali was the next in line. Two tries and one big toe (Trevor's - lost due to frostbite) later, the twosome had reached the top of their first of the Seven Summits.
The Seven Summits is a mountaineering challenge where one climbs the highest mountain of each of the seven continents. Because of a disagreement as to what should be included as Australia's mountain - the mainland small Koschiuszko or the New Guinea-located Puncak Jaya - the challenge is sometimes referred to as the 7/8 Summits. Along with Denali, Robert and Trevor have already climbed Kilimanjaro in Africa and Aconcagua in South America.
Unlike many climbers, these two take on responsibility for all aspects of their adventures. Usually beginning two years in advance, they secure necessary permits and start saving for their expenses. Arranging to get themselves and their gear - up to 150 pounds each - to the beginning of the trail is often no easy fete. They are considering climbing Everest from the China side to keep costs down; they're not sure how they'll get to Mt. Elbrus because it's in Russia's "No travel for Americans zone."
Once they've decided which summit, they spend hours on GoogleEarth. They learn and memorize the route. Familiarizing themselves with the landscape and the trail, they determine what gear they'll need. Puncak Jaya in New Guinea is a very technical rock climb requiring very different equipment from say, Kilimanjaro. Planning also includes finding the best time of year to scale a mountain and the number of days necessary to do so, including extra days for bad weather.
When they summit faster than expected, the guys make the most of the remaining time. In Tanzania (Kilimanjaro), they hiked and camped in the Serengeti. In Argentina (Aconcagua), they enjoyed the famous wine and meat so much that Robert, for the first time after a major climb, came home the same weight as when he left.
With plans for Koschiuszko and Puncak Jaya (working to hit all seven summits no matter what list is used) in March of 2020, Robert and Trevor have time to plan, save money, make arrangements, and go on about their daily lives. Along with being a father and a husband, Robert will also be out and about performing his PR and marketing duties for SJUSD or in his role as the Honorary Mayor of Phelan. Life is one adventure after another for this very busy man.
Serving Wrightwood, Phelan, Pinon HIlls and West Cajon Valley
Since 1961
Website powered by Network Solutions®